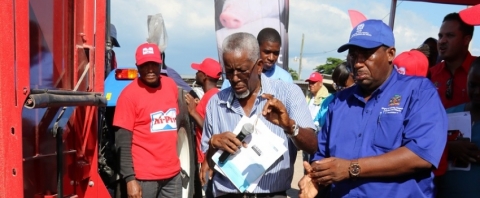 In keeping with the Jamaica Dairy Development Board's (JDDB)mandate to increase Jamaica's milk production, the JDDB introduced several livestock farmers to the use of total mixed ration as a feed solution at a Total Mixed Ration Workshop under the theme 'Livestock Feeding Solutions for Jamaica', held at Bodles Research Station in St. Catherine on October 24.
Total Mixed Ration is a feed solution being recommended by the JDDB for use by farmers, and is a combination of forages and other ingredients that provides cows with all the required nutrients for optimum production while maintaining their health and welfare.
Head of Serge Island Farms, Dr. Gavin Bellamy, in sharing his experience with the use of TMR identified increased productivity and reduced cost per tonne of feed and per litre of milk as some of the benefits derived from Serge Island's use of total mixed ration as a livestock feed solution.
Dr. Bellamy said that in addition to assisting with fodder conservation, Serge Island experienced a 50% reduction in cost per tonne of feed, reduced cost per litre of milk produced, and increased productivity with the use of TMR.
Citing an over $6-m loss due to breakdown of equipment over  a 37-day period, Dr Bellamy cautioned farmers that regular maintenance is key to a successful implementation of TMR as a feeding solution.
For his part, Consultant dairy farmer Norman Williams stated that local by-products are routinely used to formulate feed for a TMR Programme and that this type of feed provides not only consistency but is also cost effective.
To achieve consistency in the feed content, Williams said it was important to reduce the amount of variation between the formulated and consumed ration. He urged farmers to conduct on-farm evaluations of the feed storage and preparation as well as mixing and delivery of TMR to uncover factors affecting its consistency and to help find solutions to improve the efficiency of the feeding operation.