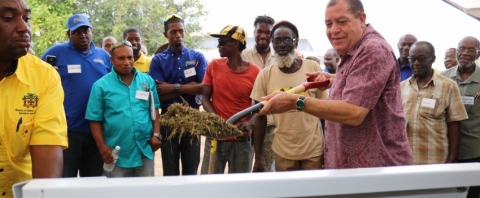 The Jamaica Dairy Development Board (JDDB) has secured a silage packing machine and accompanying new technology that will improve access to nutritious feed material for dairy cattle nationwide.   This was made possible through funding from the USAID through its Ja REEACH II project.
The silo-packer machine, the first of its kind in Jamaica, will allow the JDDB to support small dairy farmers islandwide to store fodder as silage in order to continue to provide nutrition to their animals during periods when feed material is scarce or unavailable.  
Speaking at the handover of the machine on September 12 at the Bodles Research Station in St. Catherine, Minister of Industry, Commerce, Agriculture and Fisheries, Hon Audley Shaw, said that for too long there has been a steady decline in the dairy and beef industry and stated that serious decisions needed to be taken on how to aggressively rebuild the industry.
New initiatives being undertaken, Minister Shaw assured, include the importation of embryos to accelerate further production, and of live calves as well as the preservation of local strains of cattle. 
Additionally, the agriculture minister said, "I want to see Bodles (Research Station) becoming a major instrument in converting research into on-the-ground action to improve production and productivity."
While the making of silage is not new to Jamaica, Minister Shaw said this technology is particularly  adapted for smaller farmers to use as the silage is stored in small bags rather than in large bins or holes in the ground.  This, he said, means that small farmers can feed their herds over a longer period of time as they are able to mobilize one bag at a time and so lengthen the period over which their total storage of silage remains wholesome.
In addition, the introduction of this silage-making technology to Jamaica gives the dairy farmers an option that could be utilized, under appropriate circumstances, to become a source of cost savings thus increasing their income.