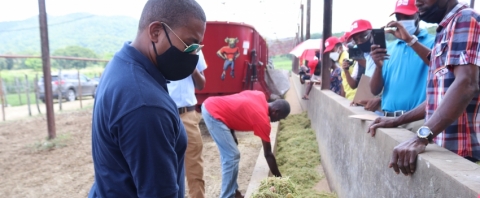 The Jamaica Dairy Development Board (JDDB) in partnership with Island Dairies Ltd handed over 300 50-lb bags of silage to the St Elizabeth Dairy Development Co-operative.
The handover is in keeping with the JDDB's mission to provide farmers with improved access to nutritious feed material for dairy cattle in the parish. 
Speaking at the handover ceremony on July 23 in Goshen, St. Elizabeth, Minister of Agriculture and Fisheries, Floyd Green, commended the JDBB for continuing to provide an enabling environment for the dairy sector
"We have to create an enabling environment for our farmers and to ensure that our farmers are getting more return on their investment, and the Dairy Development Board has to lead that charge," said Green.
He noted that last year 78.7 acres of pastures were rehabilitated and 106 acres of fodder banks established. Also, through the JDDB's Fodder Conservation Programme, 224 metric tonnes of silage was produced and training provided for 28 farmers.
Additionally, since 2021, the JDDB has assisted farmers with seed distribution, land preparation, seed sowing, harvesting and conservation resulting in the establishment and rehabilitation of 213.5 acres of improved fodder.
The Agriculture Minister noted, however, that according to the National Feed Audit Projection for the year 2021, while the total annual feed requirement of the national herd is an estimated 64 million kilogrammes, it is estimated that they will only consume a little over 48 million kilogrammes, a deficit of approximately 15.9 million kilogrammes.
"We are on a mission to grow our dairy industry in a modern way: to use modern technology, to use research, to use developmental programmes and valuable partnerships to see the resurgence of our dairy industry," said Green.
This, he said, will be done by promoting modern technology and through partnership with the agricultural educational institutions so that they get practical hands-on knowledge about the new agricultural sector.
Further, the Ministry will be encouraging new individuals to invest in agriculture and to make a business out of agriculture as well as placing more focus on diversification of the products made from agriculture.
Source: MoAF News